My Time In Nepal - A Life Changing Experience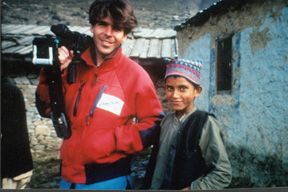 For years, I wrote and recorded songs as a kind of "audio  diary", playing a few for people now and then, but mostly storing them away in drawers and notebooks, only known to me and my inner DJ. 
I was already busy earning my living in the Film Business, so it took me awhile to consider songwriting as a possible future career.  Oddly enough though, it was a film job in Nepal, making a documentary about the infamous Sherpa mountain people there, that finally motivated me to open my audio diary to a larger audience….
Anyone who's spent time in the Himalayas will probably tell you what a magical spell these mountains can cast.  Although I'd dreamt of traveling there all my life, I still wasn't prepared for how things would change after coming home.
The key moment I remember was waking up in a small village, watching a tiny Sherpa woman trying to catch a gigantic Yak to acquire some fresh milk for the morning tea.  I'll spare you the details on how she planned to do that, but suffice it to say, through the smoke of a nearby cooking fire, it was like watching a slow motion scene in an amazing movie.  
I couldn't stop thinking about how uncluttered the Sherpa's lives seemed to be, and, conversely, how weighed down mine felt back in Los Angeles.  From that point on, I decided to pay attention to the most vital people and things in my life, and let the noise of everything else fall by the wayside.  I'd focus on what I did naturally everyday for no other reason than the simple joy of it.  In my case, this meant songwriting….  I'm not sure this would have ever happened had I not seen the simple joy of the Sherpas, living with little more than they need, in conditions harsher than any I'd ever known.
Luckily, when I got back to LA, a film director friend who was well acquainted with my songwriting, asked if I'd write songs and a score for his next movie.  I knew right then that things were going to work out, even if I had no idea how.
Many years later, I've seen a fair number of amazing places around the world, but I still dream about Nepal more than any other.  Sometimes it feels like I've been there again after I wake up.  I'm even kind of jet-lagged.  It's then, and every time I have one of those great moments when a new song or creative idea decides to use me as its way into the world, that I realize the spell of the Himalayas is still working…..